Director (Education)
Dr.Paresh Shah's Message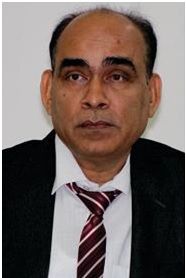 Welcome to the Narmada Education and Scientific Research Society (NEST), Bharuch.
With the sense of social commitment, GNFC Ltd. has established NEST in 1985, to provide the best learning opportunities to the youth of the surrounding region, mainly from Bharuch, Narmada & Tapi districts. In view of manpower requirement of the region due to large scale industrial development, NEST thought of establishing the first English medium College in south Gujarat region especially in Bharuch district with Science, Commerce, Computer Applications, and Business Management streams.
With the objective of preparing thoughtful, motivated, and competent professional leaders who are going to shape the future of our society, with the mind-set of think globally, act locally, NEST has designed all curriculum and pedagogies of all teaching-learning processes, arranged for all resources including technically competent, inspired, and morally-ethically charged faculty and supporting staff members. 
My appeal to all existing and prospective students of Narmada college campus that the journey of undergraduate or post-graduate studies can be undertaken with much of enthusiasm. Students need to prepare themselves not only for acquiring necessary professional skills depending upon the type of courses you have selected, but also need to acquire knowledge-creation skills and leadership skills, as indicated in Table below:
Knowledge creation skills

§  Observation, perception, exploration and investigation skills

§  Data collection and analysis skills

§  Modelling & simulation skills

§  Analytical writing skills

§  Mathematics and statistical analysis skills

§  Experimental investigation skills

§  Research Methodology

Leadership Skills

§  Vision

§  Critical & Creative thinking

§  Communication

§  Planning

§  Motivator

§  Responsibility

§  Decision Making

§  Role Model

§  Team builder

§  Managing change

§  Delegating

§  Honesty

§  Commitment

§  Humility

§  Empathy

§  Confident

§  Learning quickly & lifelong learning

§  Listening
Today's world is of competition in all walks of life and besides professional knowledge, one also needs a good personality, leadership qualities, ethical-moral standards, sensitivity to understand societal problems, problem-solving skill, creativity-innovativeness, mind management skills, etc. in order to succeed in life. Here, on the college campus, you will have ample opportunities to develop all these  qualities.
So have the joy of learning, experience the growth in yourself, and utilize your time fruitfully.
Wishing you the most fulfilling and satisfying 2-3 years of your life with lots of memories to cherish forever.
 
 

Profile of Dr.Paresh  Shah

Dr.PareshShah has completed his graduation in Civil Engineering from L. D. College of Engineering, in 1982, and M.Tech (1984) & Ph.D. (2005) in Geotechnical Engineering from I.I.T. Mumbai. He has 8 years of consultancy experience, involved in design & construction of industrial structures, and 28 years of academic experience with reputed academic institutions – Nirma University as Head of Civil Engineering Dept., Ganpat University as Principal of U.V. Patel College of Engineering, and CEPT University as Dean, Faculty of Technology. Dr. Shah has many publications, organized seminars& workshops, conducted training programmes, guided M.Tech& Ph.D. dissertations and involved in consultancy & research projects.